Dear all,
It is my pleasure to share the details of an upcoming event "How Legal Empowerment Advances the Sustainable Development Goals" taking place at NYU Law School in New York City on Wednesday, July 17, 2019 from 5:00 pm - 7:00 pm.
Please register via EventBrite here and share with your networks.
The event will be livestreamed - please tune in to Namati's twitter page on July 17 at 5pm EST to view the event.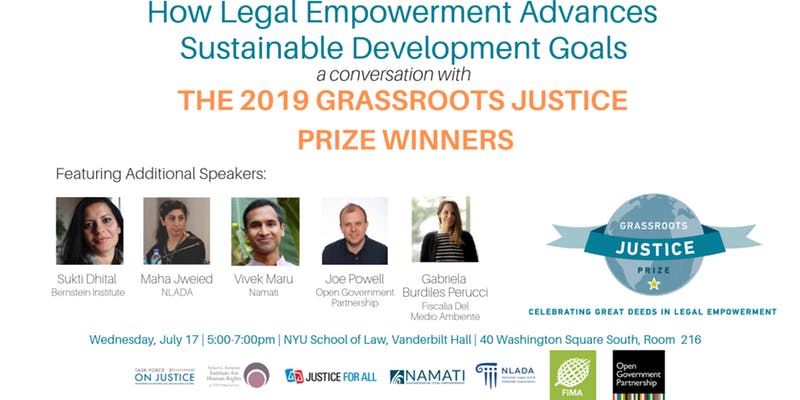 About the event:
Please join NYU Bernstein, Namati, Justice For All, Pathfinders Task Force on Justice, NADLA, FIMA, and OGP for a discussion on how legal empowerment advances the SDGs. Co-organized by NYU Bernstein and Namati, this conversation will be opened with remarks by the winners of the 2019 Grassroots Justice Prize on how their work advances legal empowerment and extends access to justice in the communities they serve. The winners will then be joined by a group of access to justice thought leaders to discuss global processes and upcoming opportunities to advance legal empowerment through the Sustainable Development Goals.
Taking place during the week of the UN High Level Political Forum, this important and relevant conversation will bring together practitioners working to advance access to justice from the grassroots to the global level. The event will be followed by a networking reception and refreshments.
Details:
Date: Wednesday, 17 July 2019

Time: 5:00-7:00 pm

Location: NYU School of Law, Vanderbilt Hall 40 Washington Square South, Room 216
Register to attend here
@suktidhital @joepowell @burdiles @maaikedelangen @lucianabercovich @madelinegunderson @MohammedAman @vivekmaru