View this email in your browser. La versión en español de este mensaje se encuentra abajo.

Applications close April 15th for Centroamérica Adelante, a leadership program focusing on forced migration from the Northern Triangle
Dear Colleagues,
We'd like to remind you that the call for the 3rd edition of Centroamérica Adelante is open, a leadership development program fully funded and sponsored by Seattle International Foundation (SIF) , and managed in collaboration with the Institute of International Education (IIE) and Cristosal . We encourage you to share the call among your contacts in El Salvador, Guatemala, and Honduras.
For this edition, we are looking to form a group of 35 civil society leaders working on the causes of forced migration in the Northern Triangle of Central America (El Salvador, Guatemala, and Honduras).
Similarly to previous editions, a series of in-person and online trainings will be offered for ten months, with a highly participative approach aimed at personal growth, the development of professional skills, and the construction of social capital.
The program is designed to facilitate and motivate the participants to actively work with other actors in order to improve the conditions and situations that force people to migrate. To see the profile description of the ideal participant, other requirements, and the link to the application, click here .
We are very excited to continue working with leaders of social change in the Northern Triangle of Central America, and thank you in advance for your support in sharing this information among your contacts.
Thank you,
Seattle International Foundation team
Application Instructions for Centroamérica Adelante
The application closes on April 15, 11:59 PM (Central American time).
See instructions and materials of the application here .

Sign up for one of our online information sessions (webinars) to learn more about the program and the application process:
Note: All online sessions will be broadcast in Central American time. If you have any questions, please write directly Belén Plascencia at cenamadelante@iie.org.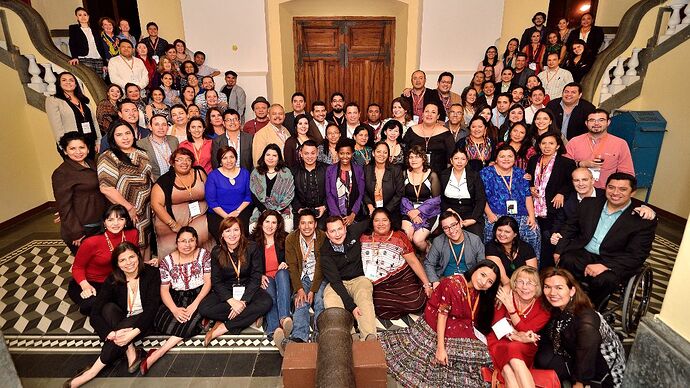 La convocatoria para Centroamérica Adelante, un programa de liderazgo enfocado en la migración forzada del Triángulo Norte, cierra el 15 de abril
Estimados(as) colaboradores(as):
Les recordamos que se encuentra abierta la convocatoria para la 3ª edición de Centroamérica Adelante, un programa de desarrollo de liderazgo totalmente financiado y patrocinado por Seattle International Foundation (SIF) , gestionado en colaboración con el Institute of International Education (IIE) y Cristosal . Los invitamos a que compartan la convocatoria entre sus contactos de El Salvador, Guatemala y Honduras.
Para esta edición, buscamos formar un grupo de máximo 35 líderes de la sociedad civil que trabajen en las causas de la migración forzada en el Triángulo Norte de Centroamérica (El Salvador, Guatemala y Honduras).
De manera similar a las ediciones anteriores, se ofrecerá una serie de capacitaciones presenciales y en línea durante diez meses, con un enfoque altamente participativo orientado al crecimiento personal, el desarrollo de habilidades profesionales y la construcción de capital social.
El programa está diseñado para facilitar y motivar a los participantes a trabajar activamente con otros actores para así mejorar las condiciones y situaciones que obligan a las personas a migrar. Para ver la descripción del perfil del participante ideal, otros requisitos, y el enlace de la solicitud, haga clic aquí .
Estamos muy emocionados(as) de volver a trabajar con líderes de cambio social en el Triángulo del Norte de Centroamérica. Les agradecemos de antemano el apoyo en difundir esta convocatoria entre sus redes de contacto.
Muchas gracias,
El Equipo de la Seattle International Foundation
Instrucciones para participar en Centroamérica Adelante
La convocatoria cierra el 15 de abril a las 11:59 PM (hora de Centroamérica).
Vea las instrucciones y materiales de la solicitud .

Participe en una de nuestras sesiones informativas online (webinars) para recibir informes en vivo sobre el programa y el proceso de solicitud:
Obs. : Todas las sesiones en línea serán transmitidas en Hora de Centroamérica. En caso de dudas o comentarios, favor de escribir directamente a Belén Plascencia a cenamadelante@iie.org.