HOW TO RAISE FUNDS FOR NGOS SUCCESSFULLY WEBINAR ON 27TH JANUARY 2022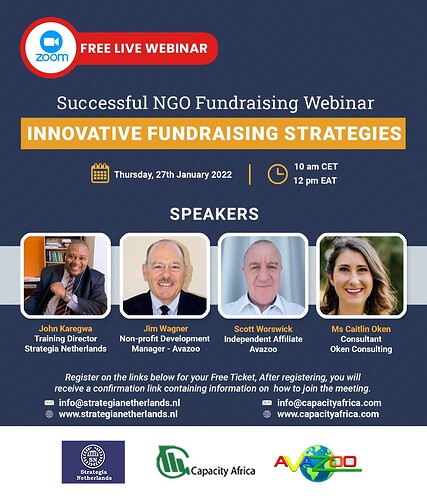 Fundraising is what drives the work of Non Profit Organizations/ NGOs globally. Fundraising activities form the backbone of any development organization. Hence for sustainable strategies, organizations must enhance their skills and capacity on fundraising by equipping their key members of staff with skills and the understanding of emerging trends in Grant writing and fundraising applicable today.
Join us for the next Successful NGO Fundraising Webinar!
Theme: Fundraising Tips During Covid 19 Crisis
• Innovative Fundraising Strategies • Understanding NGO fundraising environment • Fundraising opportunities and challenges during the Covid 19 crisis.
Guest Speakers will be:
John Karegwa- Strategia Netherlands Scott Worswick- Affiliate, Avazoo Jim Wagner- Non Profit Development Manager- Avazoo Caitlin Oken, Grant Making Consultant- Oken Consulting Kevin Gikonyo- Director, Social Entre-Business Consultants,
Time: Thursday 27th January 2022 10 AM Amsterdam; 12PM EAT
You are invited to a Zoom meeting. Join Zoom Meeting:
REGISTRATION LINK [https://us02web.zoom.us/meeting/register/tZAudeCurjgsGdO-sO5QLVvLIQgCUEMmjtRP
After registering, you will receive a confirmation email containing information about joining the meeting next week Thursday 27th January 2022.
Training Manager Strategia Netherlands Belje Wolffstraat 62, 3027 RN , Rotterdam, Netherlands Email:info@strategianetherlands.nl info@strategianetherlands.nl