INVITATION TO FREE MONITORING AND EVALUATION COURSE WEBINAR ON THURSDAY 10TH FEBRUARY 2022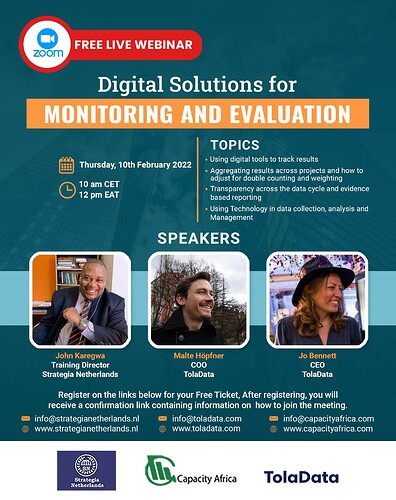 Toladata in partnership with Strategia Netherlands invite you to free Monitoring and Evaluation Training Course Webinar.
Digital Solutions for Monitoring and Evaluation Webinar on 10th February 2022, 10am CET 12pm EAT
Topics:
using digital tools to track results
aggregating results across projects and how to adjust for double counting and weighting
transparency across the data cycle and evidence based reporting -Using Technology in data collection, analysis and Management
Speakers
John Karegwa- Training Director- Strategia Netherlands
Jo Bennett, CEO- Toladata
Malte Höpfner, COO -Toladata
You are invited to a Zoom meeting. When: Feb 10, 2022 10:00 AM Amsterdam
Register in advance for this meeting:
After registering, you will receive a confirmation email containing information about joining the meeting.
Sincerely
John Karegwa Training Director Strategia Netherlands Email:info@strategianetherlands.nl Website: LinkedIn
Email:Info@toladata.com Email: www.toladata.com