Are you interested in mapping for indigenous or community land rights? Do you want to learn how to use mapping tools to support communities' land management? Do maps seem like a useful tool that you could use in your work?
Then you are invited to 4th Annual Indigenous Mapping Workshop! Applications are now open - please apply here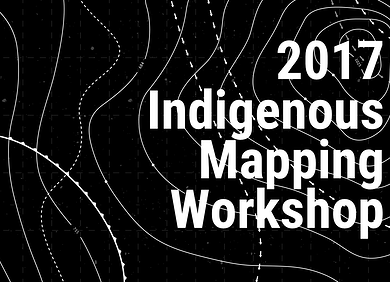 This is an annual event hosted by The Firelight Group, Brokenhead Ojibway Nation, Nanaandawewigamig, the Partners for Engagement and Knowledge Exchange, Google Earth Outreach, Google Canada, and Esri Canada. The 2017 Indigenous Mapping Workshop will welcome more than 200 community mapping practitioners from across North America (and beyond) to Winnipeg, Manitoba on October 30 to November 2, 2017.
The four-day event will explore Google, Esri Canada, QGIS, and other tools for creating community maps and geospatial data. Participants will learn how to use these tools to collect, host, visualize, share, and publish community data. The technical training will be co-led by members of Google Earth Outreach, Esri Canada, and a global network of Indigenous mapping experts.
While the focus is on using mapping in the context of Indigenous communities in Canada, we often welcome people from other countries and they have found the workshops and experiences to be relevant and useful for their work.
@marenabrinkhurst from Namati has attend the last two years - Marena, anything you'd like to tell Network members about your experiences at the workshop?
Learn more at: http://www.indigenousmaps.com/
Registration for the 2017 Indigenous Mapping Workshop is $375 CAD. Due to the limited number of seats and high demand, interested participants must apply to attend the 2017 Indigenous Mapping Workshop. Successful applicants will be invited to register for the workshop on July 31, 2017. Priority will be given to Indigenous community members, with a maximum of 2 participants per community. Registration includes all scheduled Training Sessions, Keynotes, Caffeine Breaks, Daily Lunches, Trade Show Access, Welcome Feast, Map Gallery, and Networking Events. Registration does not include travel costs, accommodation, or visas.